Auto Shanghai 2023 began today, and it's already clear that it's the only auto show that matters anymore. "Legacy" brands established in the West don't even need to feign interest in the Detroit Auto Show to sell their shiniest, newest wares, while the Geneva Motor Show is moving to Qatar, because why not. But in China, all the major players in our neck of the woods have something to prove against the domestic giants, and so they've come out swinging this year. Like Honda.
The Mundane Cars You Can't Help But Love
In case you missed it:
On Tuesday, Honda trotted out not one, not two, but four battery-electric concepts, affirming its commitment to EVs in the world's largest market for them. Three are SUVs (the e:N 序, e:NP2 and e:NS2) and one's a sedan we've seen before (the e:N GT). The automaker wants to bring 10 EVs to market in the region over the next four years, so you'd figure the entire group is destined for showrooms in one form or another.

The e:N SUV 序 is the top dog — an iteration of an earlier concept, also called the e:N SUV but without the Chinese character xù, which translates to "Prologue." The NP2 and NS2 are smaller distillations of that design. Honda says they're distinguished by their respective visions of the future; the NP2 is "seamless, sophisticated and smart," while the NS2 is "emotional." As far as I can tell they're identical, save for how their LED strips are arranged up front. Honda's basically A/B testing faces at this point.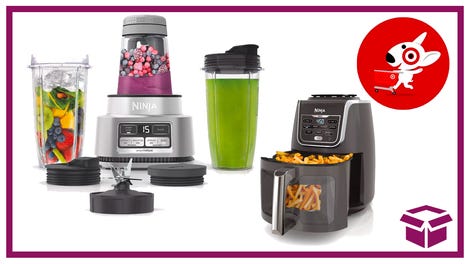 Up to 20% off
Up to 20% off Kitchen and Dining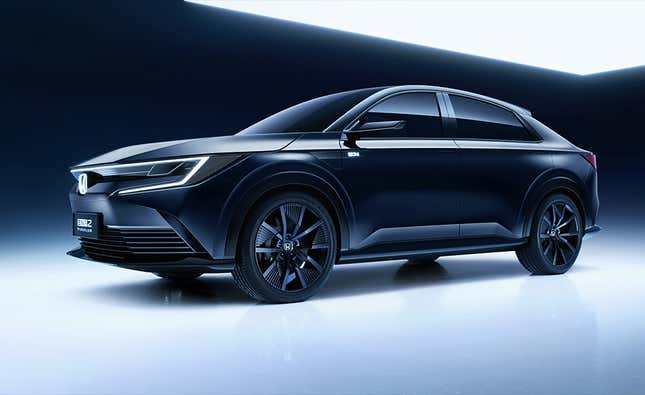 And then there's the e:N GT sedan, which isn't even mentioned by name in the press release. Maybe that's because we've seen the e:N GT before. But even then, why include it in the family portrait?
Visually, it's hard to take issue with any of these concepts. The NP2 and NS2 are designated as "prototypes," which appears to be Honda speak for "production-ready," as they seem more realistic than the other two. They look nice enough. They also reek of a desperation to be noticed.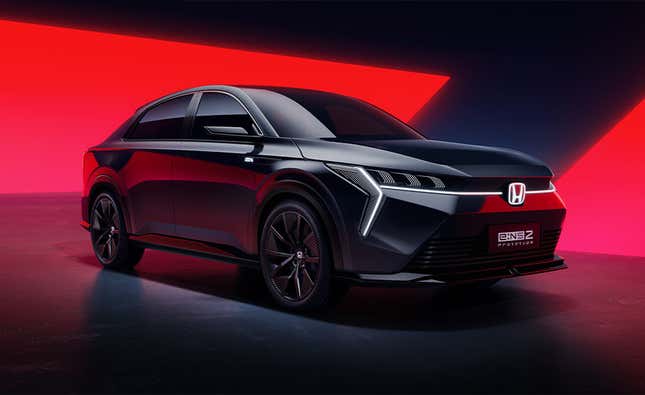 Honda currently offers two EVs in China — the e:NP1 and e:NS1. They're the current-generation electric SUVs which the NP2 and NS2 will presumably replace. The NS1 was the first on the scene about a year ago. Sales figures for it haven't been reported, but the model doesn't appear to have stirred the public. Honda failed to crack the country's top 10 automakers by sales volume between January and March of this year, per Financial Times, and its most recent quarterly performance tumbled year-on-year by 19 percent.
The only tactic that big names like Honda, Toyota and Volkswagen seem to have in response to their evaporating mindshare in China is to advertise a breadth of EVs, as Reuters explained in a rather damning report from the auto show floor on Tuesday. Floating the same basic car in an assortment of different shells, furiously bargaining with a higher power that one or more of them sticks.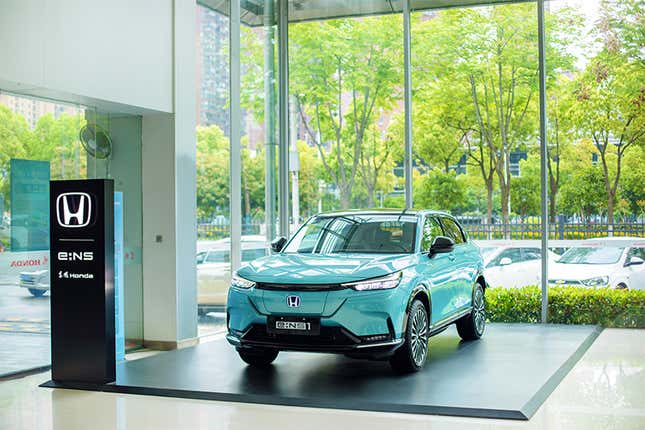 It's worth a shot. The modularity of electric cars makes it easy enough for automakers with the requisite manufacturing muscle to do this. But it hardly seems like a strategy destined for success — not when the supply chain is rigged in favor of domestic rivals, who are able to pass those savings along to customers. All Honda can offer is a badge with diminishing significance to younger people with spending power.