At this point, the jokes about a Lexus having a big grille have become so cliche, they're not even worth making anymore. But then Lexus we saw the LM luxury minivan, and well, how can you not talk about how much of the front end is taken up by the grille? It's absolutely massive, but, uh, at least it makes a statement? If you ever see one, you certainly aren't going to forget it.
What Car Should You Buy: Manual Luxury on a Budget
In case you missed it:
The interior, on the other hand, is actually quite nice. Basically, it's the Lexus LS of minivans, and we love it. Who cares what the exterior looks like when you're luxuriating in ultimate comfort in your four-seat minivan? Technically, you can order it with seven seats, but the four-seat version is much more interesting and will probably be the most popular configuration. It's basically a limousine but better.
Step in through the sliding rear door, and you're greeted with two executive-style lounge seats. There's also no need to talk to your driver if you're not in the mood because there's a full partition between the front and rear with a retractable glass panel that can be opened and closed but also dimmed for even more privacy. The partition has a 48-inch screen built into it, as well, for conducting important business or watching a movie. And that movie should sound pretty good, too, thanks to a 23-speaker Mark Levinson sound system.
Speaking of those rear seats, they don't just recline. They can lay completely flat like the seats in the first-class section of an airplane, allowing passengers to sleep in comfort if they want. Lexus says they're also "designed to counter head-sway, so passengers have a stable line of sight, and to reduce uncomfortable low-frequency vibrations. They improve posture, supporting the body securely from pelvis to chest, and provide better pressure distribution for the lower half of the body. Side wires further help hold the body in place and keep the pelvis upright, so there's less risk of the occupant adopting a hunched position." So expect them to be pretty darn comfy.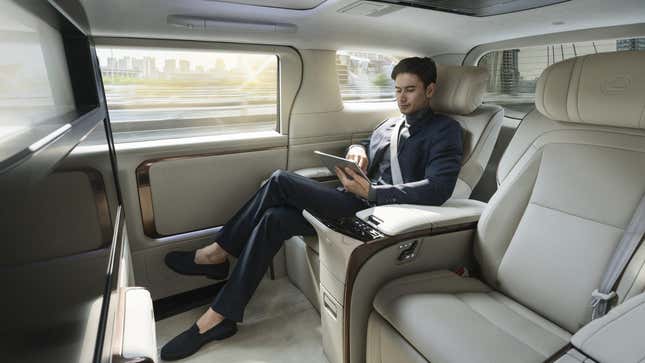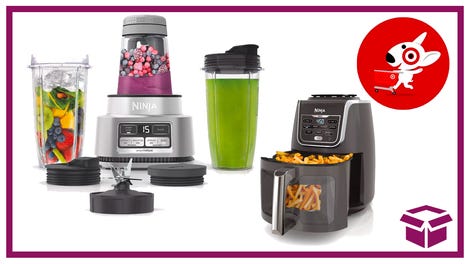 Up to 20% off
Up to 20% off Kitchen and Dining
Lexus is also particularly proud of how quiet the LM's interior is. Road noise is reduced by using special wheels and tires, as well as active noise cancellation, and measures have been taken with the body panels to keep out other exterior noises. According to the release, Lexus wanted to create "a particular kind of quietness, one with a natural feel rather than the absolute, sometimes oppressive, "dead" quiet experienced in a soundproofed room or recording studio. Lexus likens the quality to walking through a silent wood in the open air – an environment that pleases all the senses."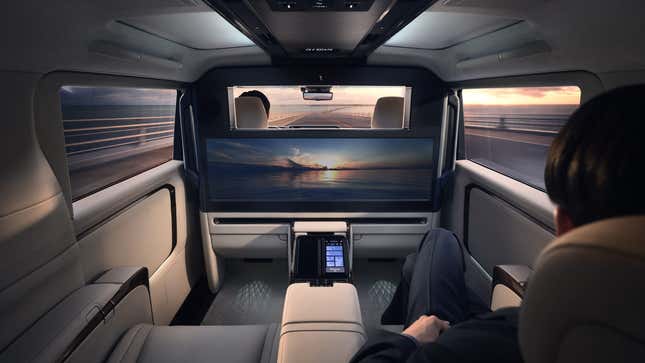 The LM also has a feature called Lexus Climate Concierge that allows different passengers to save their preferences for climate control, interior lighting and seat reclining so they can have everything their ideal way with the touch of a button. There are also infrared sensors that monitor passengers' bodies to make sure they're as comfortable as possible. If your body is warm, but your hand is getting cold, it can respond by blowing a little warm air toward your hand without raising the overall temperature of the cabin. If that isn't luxury, we don't know what is.
In order to enjoy the luxury of the LM's back seats, though, you're going to need a driver. And while the front seats aren't nearly as nice as the back ones, they're still pretty luxurious. Almost every surface up front is covered in leather or trimmed with wood. Since rear visibility is basically nonexistent, the driver gets a digital rearview mirror to help them see what's behind them.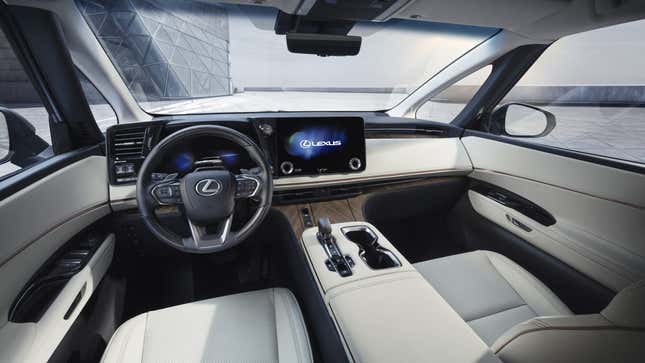 Unlike a Rolls-Royce, though, there's no massively powerful engine under the hood. Instead, the LM gets the RX 350h's 2.5-liter hybrid system that makes 247 hp. All-wheel drive is also standard and can send as much as 80 percent of the torque to the rear wheels. The adaptive suspension also has a Rear Seat Comfort drive mode to make sure rear passengers are as comfortable as possible as they travel.
Pricing has yet to be announced, but if you were thinking about buying a 2024 Lexus LM, you better be in Europe or Asia because it's not coming to North America. Apparently, wealthy people in the U.S. don't appreciate the brilliance of a luxury minivan enough to make it worth the effort.